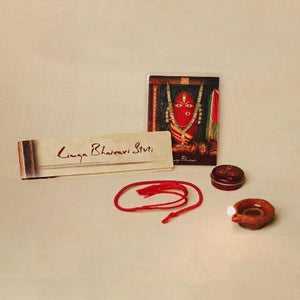 Bhairavi Sadhana is an opportunity to bring forth devotion from within. Both ladies and gents can participate in this sadhana. The sadhana starts during early Uttarayana, when the sun's run shifts to the northern hemisphere, a time conducive for spiritual receptivity.
This kit consists of a Devi kumkum, Linga Bhairavi pocket photo, Linga Bhairavi Stuti (English), Devi Abhaya Sutra (Lamp not included).
Devi Abhaya Sutra
Supports in fulfilling ambitions, while eliminating fears
To be worn for a minimum of 40 days
How to wear it?
Women should wear it on the left wrist, men on the right.
It must be worn for a minimum of 40 days.
It can be removed by untying or burning it (please do not cut it).
It can be disposed of either by burying it in wet soil, or burning it and applying the ashes from your vishudhi chakra (pit of the throat) down to the anahata chakra (just below the sternum).