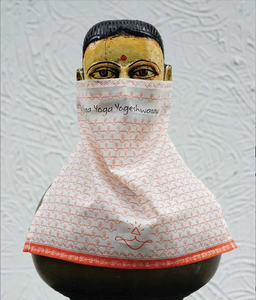 Not just another fabric mask, Isha's very own offering is designed to help you breathe unhindered. Conventional fabric masks with fasteners at either end may restrict your ability to breathe freely. The Isha mask fits snug around your face while leaving the other end open for you to breathe freely. It is long enough to cover your nasal and oral cavity.
Made of pure cotton, the mask features an all-over print with "Yoga Yoga Yogeshwaraya" emblazoned at the top. A constant reminder to keep the chant on!
Note: The mask is ideal for everyday use. This face mask should not be used in any potentially hazardous situation that requires the use of surgical masks or N95 masks.
Non-surgical Face Mask
100% Organic Cotton
Elastic Fastener
All-over Print
Washable/Re-usable
Available in 2 sizes